MON-FRI 10AM-5PM | SAT 10AM-3PM
Or anytime by appointment.
Seaside Casual Furniture in Ripon, WI
Find Out the Benefits of Seaside Casual Furniture
Whether you're redesigning your outdoor space or creating a new entertaining area from scratch, Casual Living Outfitters can help. We've helped numerous homeowners in Ripon, Oshkosh, Fond du Lac, and Appleton, WI create the backyard of their dreams. Among our many specialties is poly furniture. This type of furniture is made from recycled materials but still maintains an aesthetic stylish. When you visit our showroom, you'll find an array of products from some of the top brands. One of those fantastic brands is Seaside Casual. This furniture company is a leader in classic outdoor furniture, as well as modern favorites. Find out what you can expect from this outstanding brand.
What Sets Seaside Casual Apart?
Seaside Casual is an outdoor furniture brand committed to stunning designs and exceptional materials. Whether you choose a Seaside Casual Adirondack chair or dining set or deep seating arrangement, you can expect nothing less than top quality. Their products are made with durable materials and designed to withstand the elements. Not only is their furniture made to last, but it's aesthetically appealing and can fit in with nearly any design preference.
A Variety of Products to Choose from
Seaside Casual's patio furniture selection has something for everyone. No matter your style preferences or need, you'll find the perfect fit in their line. From classic adirondack chairs to a relaxing chaise lounge, Seaside Casual provides everything you need to complete your outdoor living space. Here's a brief overview of what customers can expect from this reputable brand:
Seating: Seaside Casual offers an array of seating options. Check out comfy club chairs, chaise lounge chairs, ottomans, and much more. Many products can be customized with color!
Tables: What kind of table do you need for your space? A circular high top or a rectangular dining table to fit the whole family? Fortunately, Seaside Casual offers both of these and more. No matter how much table space you need, this brand can accommodate you.
Accessories: No outdoor living space is complete without a few accessories here and there. Be sure to explore Seaside Casual's products to see what they offer. Planters, benches, and trash receptacles are just a few of the items you'll find.
Cushions and Pillows: Seaside Casual cushions are the perfect addition to any of their pieces. Their cushions are made to accommodate their dining chairs, adirondack chairs, and chaise lounges.
Casual Living Outfitters Can Help You Select the Best Fit
Are you feeling a little overwhelmed by the variety that Seaside Casual has to offer? If so, you're certainly not alone! Fortunately, Casual Living Outfitters can help you choose the best pieces for your outdoor space. We'll sit down with you, listen to your needs and preferences, and make recommendations from there. Our team will keep you up to date on Seaside Casual furniture prices, as well as options for color and customization. With a little help from the staff at our Ripon, WI showroom, you'll be well on your way to the outdoor entertaining space you've always envisioned!
Contact Our Team Today
No matter where you are in the design process, the team at Casual Living Outfitters would love to help you. We've helped countless Wisconsin homeowners elevate their outdoor living space with exceptional poly furniture. We'll point you to Seaside Casual outdoor furniture that will amaze your family and friends. Be sure to let us know your design preferences and budget, and we'll make every effort to meet your requirements. We welcome you to give us a call or better yet, visit our showroom. Contact us with any questions.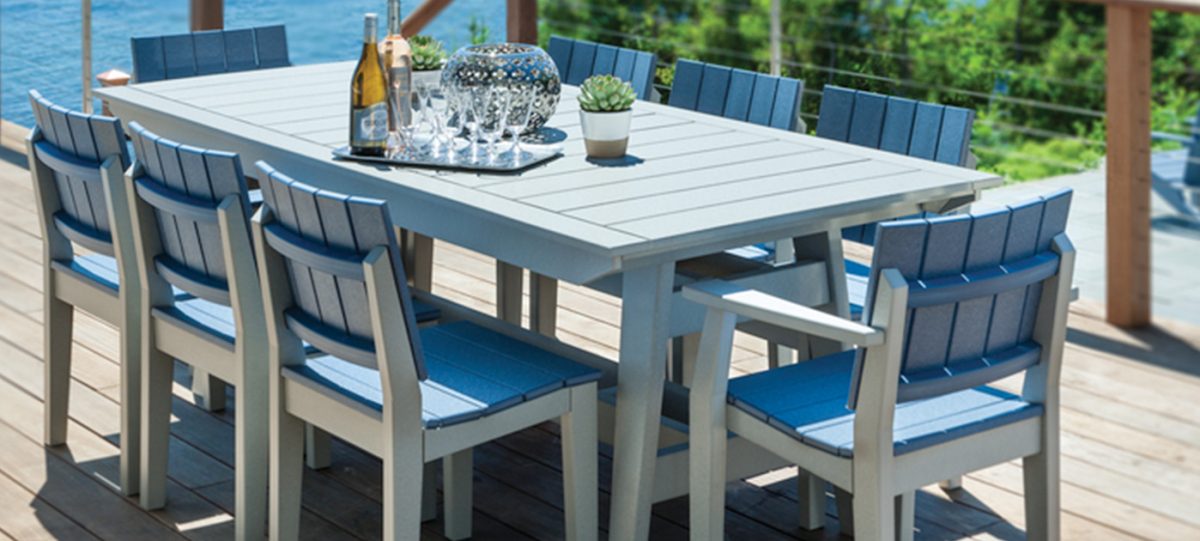 Traditional design recreated in modern materials. Handcrafted furniture that looks great, is easy to maintain and can be left outdoors from one season to the next.