MON-FRI 10AM-5PM | SAT 10AM-3PM
Or anytime by appointment.
Berlin Gardens Furniture in Ripon, WI
Providing Stand-Out Poly Furniture from Berlin Gardens
Poly furniture is an excellent choice for furnishing any outdoor living space. Wisconsin is known for inconsistent temperatures, hot summers, and freezing winters, and poly furniture can withstand these temperature swings. But you don't want to purchase this furniture just anywhere. Allow the team at Casual Living Outfitters to point you to some of the best brands in the business. Berlin Gardens is one of the nation's stand-out manufacturers. They're known for outstanding quality, attention to detail, and unshakeable consistency. We're excited to help homeowners from Ripon, Appleton, Fond du Lac, and Oshkosh find the perfect outdoor furniture for their needs.
What Makes Berlin Gardens Special
You could look anywhere for poly furniture, but Berlin Gardens' outdoor furniture can truly provide you with the quality you deserve. The team at Berlin Gardens is dedicated to 100% customer satisfaction, and their foundation is built upon making each customer happy. Located in the heart of Ohio's Amish Country, this manufacturer combines modern construction techniques with tried-and-true traditional methods. This combination is a recipe for success. Berlin Gardens is known for quality and consistency, whether it's the big-ticket aesthetic features or the tiniest details.
Peruse a Variety of Products and Collections
Berlin Gardens furniture comes in an array of colors, textures, and materials. Take a quick look through their numerous collections, and you'll get a good idea of the sheer variety of pieces available in their line. Whether you're looking for a classic chaise lounge or a specialty Berlin Gardens table, this manufacturer can accommodate you.
Nordic: The Nordic Collection features contemporary styles and sleek lines. Choose from seating, complementary tables, and Adirondack chairs.
Mayhew: Are you a fan of clean, modern designs? The Mayhew Collection has the updated aesthetic you're looking for. Ask us about these stunning chairs and sofas and Adirondack chairs.
Classic Terrace: Bring the comforts of the indoors outside. The Classic Terrace Collection features some of the most comfortable Berlin Gardens deep seating pieces a fantastic porch swing.
Comfo Back: Berlin Gardens Adirondack chairs are a classic! Their Comfo Back Collection is an excellent choice if comfort is your number-one priority.
Cozi Back: Your Berlin Gardens patio furniture collection isn't complete without a Cozi Back piece. These chairs have a classic design as well as unmatched comfort.
Casual Back: Love lounging around? The Casual Back Collection was made with you in mind. These Berlin Gardens chaise lounges and swings are perfect for enjoying the summer weather.
Bristol: The Bristol Collection has it all when it comes to seating. Choose from dining chairs, counter height or bar height chairs and swivels.
Harbor: The Harbor Collection features some of Berlin Gardens' most sought-after tables. Take your pick from large rectangular or small round tables.
Garden Mission: The Garden Mission Collection is a great choice for for armless dining chairs or arm chairs.
Garden Classic: Are you looking for a traditional table that will look great with any décor? The Garden Classic has you covered.
Pax: The Pax Collection features products made from a combination of poly and aluminum. It works great for a compact space.
Donoma: If you do lots of entertaining outdoors, be sure to consider a poly top fire pit from the Donoma Collection.
Homestead: Do you love the rustic charm of a farmhouse? The Homestead Collection was designed for you. These Berlin Gardens tables are beautiful and functional.
Pergolas, Arbors, and A-Frames: Complete your outdoor living space with a Berlin Gardens pergola. Check out all the options!
Picnic Tables and Benches: Add the finishing touch to your backyard with a picnic table or cozy garden bench.
Bars and Buffet Tables: Adding a bar or buffet table to your space is an excellent way to take your backyard to the next level. Browse our selection of bar stools and outdoor islands!
Porch Rockers: Are you ready to spend relaxing summer evenings on the front porch. Berlin Gardens offers lovely porch rockers.
Accessories: Berlin Gardens provides everything you need to complete your outdoor space, including miscellaneous accessories. Ask us about footstools, storage boxes, and more.
Ask Us for More Info on Berlin Gardens
Anyone can see that Berlin Gardens has plenty to offer homeowners. If you're interested in an Adirondack chair, gliders, a dining set or a Berlin Gardens fire pit, don't hesitate to contact us. The team at Casual Living Outfitters would be glad to speak with you about your wide variety of outdoor living options. Let us know your preferences, and we'll make some recommendations.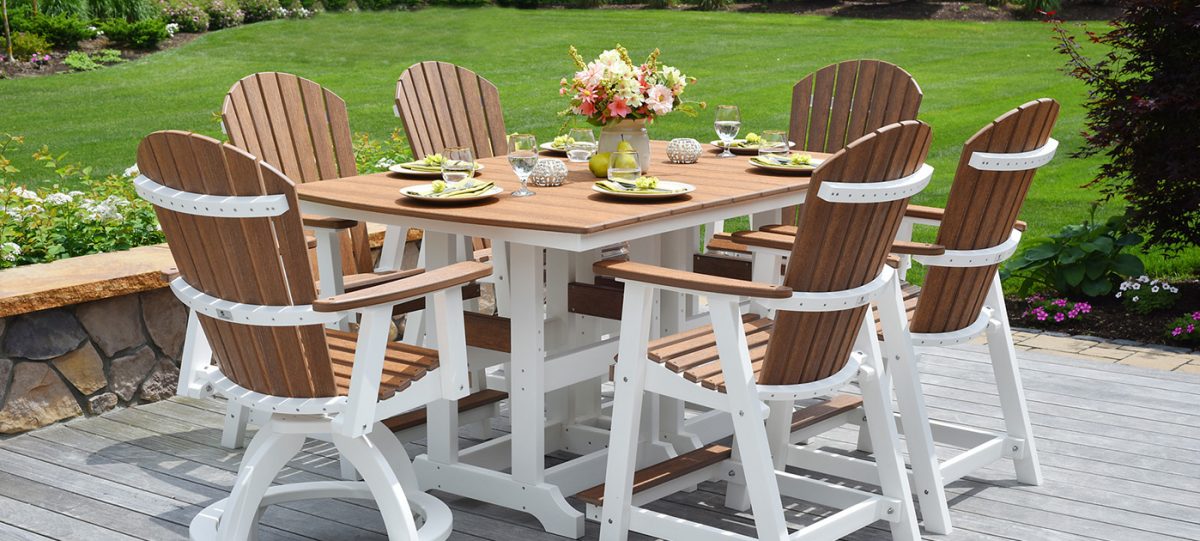 American made poly furniture that will remain comfortable, strong and beautiful for years to come.